Dating ultrasound & Fetal viability Scans
6 Weeks - 12 Weeks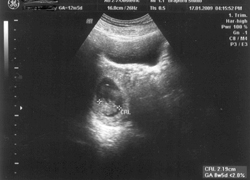 Dating ultrasound scan or fetal viability scan may be performed early in pregnancy generally around 12 weeks, but Dating ultrasound may still be performed 6-12 weeks . During this scan the correct place of pregnancy is noted or otherwise (Whether the pregnancy is intra- or extra- uterine). Ectopic pregnancy (extra - uterine) may be ruled out from 6 weeks onwards during this early dating ultrasound scan. The presence of fetal pole is checked as well as the pulsating fetal heart. This scan will also confirm the viability of early ongoing pregnancy especially in the presence of pain or bleeding or any other early pregnancy problems.
The baby's length is measured from head to bottom (Crown Rump Length) up to 14 weeks. Later on the measurements of the head, Bi-Parietal Diameter, (BPD), are used to determine the Expected Date of Delivery. Any discrepancy in dating may be sorted out at this early pregnancy dating ultrasound scan. This dating ultrasound scan, however, may not accurately date pregnancy if it is performed after 24 weeks.
Gross fetal abnormalities are usually noted at this stage. However a full anomalies or detailed scan are mainly performed at 18-24 weeks. In twins, and other multiple pregnancies, the number of babies can be determined at this early dating ultrasound scan.
This dating ultrasound scan of your unborn baby is usually performed trans-abdominally. However this scan may be performed internally, i.e. Trans-vaginal ultrasound especially if there is any pregnancy complications i.e. pain or bleeding where more of the details of the pelvic organs can be seen and assessed.
Please bring your maternity notes with you.
Package
Price
Dating ultrasound & Fetal viability Scans

£125.99
Dating ultrasound & Fetal viability Scans - Same day Appointment
For Uncomplicated Pregnancy

£139.99
Combined Dating and Nuchal Translucency Scan
From 11 weeks (+6 days) and up to 13 weeks (+6 days)
£169.99
Fetal Viability, Dating & Nuchal Translucency Scan, 2D
£169.99
Emergency scan
This includes abdominal and vaginal scan. This is usually performed on weekends and bank holidays. It also when it has been requested late evenings and on the same day. Emergency scan is usually performed in view of abdominal pain or vaginal bleeding especially during the first twelve weeks of pregnancy.
£169.99
Early pregnancy scan
From 4 - 7 weeks of pregnancy
This will include Abdominal and Trans-vaginal ultrasound as well as a medical report and a referral letter to hospital if required.
£139.99
Early pregnancy scan
8 weeks and up to 11 weeks
This will include Abdominal and Trans-vaginal ultrasound as well as a medical report and a referral letter to hospital if required.
£125.99
Unknown dates
Dating Scan for unknown dates
£139.99
Find out more about the following scans: