Pregnancy Scans
Antenatal, Pregnancy and Obstetric Ultrasound Scans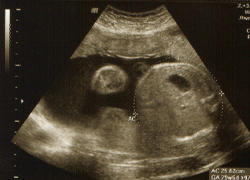 Baby Scan is an Ultrasound scan and it is a very commonly performed investigation in pregnancy. It is the obstetrician's eye and hands to examine the unborn baby. The baby scan may be performed for a variety of reasons. This ranges from a dating baby scan in early pregnancy to scan the baby at term for presentation and fetal monitoring. This baby scan can also diagnose bleeding in early pregnancy or placenta praevia and vasa praevia in the third trimester - i.e. later on in pregnancy. The new 3D and 4D baby scan is very popular these days and they are a major advance in obstetric ultrasound baby scanning where the baby is seen inside the womb smiling, frowning or even yawning.
Two 2D images are provided with all baby scans.
Please bring your maternity notes with you.
Package
Price

NEW Total Ultrasound Care


Brayford Complete Ultrasound Care

This includes:
1- Pregnancy scan at 8-10 weeks
2- Nuchal Translucency & Nasal bone scan at 11-13 weeks
3- Reassurance scan at 16 weeks
4- Anomalies scan at 18-22 weeks
5- 3/4D scan at 25-32 including 2D fetal wellbeing scan,DVD & CD Rom
6- Fetal wellbeing scan at 32-38 weeks
7- Any extra scan is also available but has extra charges.
Price:
Singleton pregnancy: Cost: £604.99, Saving £204.99
Twins Pregnancy: Cost: £804.99, Saving £304.99
Single £604.99
Twin £804.99
Dating ultrasound & Fetal viability Scans

£125.99
Dating ultrasound & Fetal viability Scans - Same Day Appointment

£139.99
Harmony blood test only

£399.99
Harmony and Dating Scan

£500.99
Harmony in the second trimester
£399.99
Markers + Harmony blood
£500.99
Nuchal Translucency Scan

£139.99
Combined Dating and Nuchal Translucency Scan
From 11 weeks (+6 days) and up to 13 weeks (+6 days)
£169.99
Nuchal fold & Marker Scan, 2D
£169.99
Fetal Viability, Dating & Nuchal Translucency Scan, 2D
£169.99
Fetal Anomaly Scan
£169.99
Fetal Presentation ultrasound scan
£125.99
Vasa Praevia Screening
£139.99
Reassurance Scan - First Trimester (4-7 weeks)

£139.99
Reassurance Scan - First Trimester (8-12 weeks)

£125.99
Reassurance Scan - Second Trimester (13-24 weeks)

£139.99
Reassurance Scan - Third Trimester (25-42 weeks)

£169.99
Reassurance scan - Singleton - Same Day Appointment

£139.99
Reassurance scan - Twins - Same Day Appointment

£169.99
Combination Scan (When two Scans are booked at the same time i.e. Gender Scan & Anomalies Scan)

£169.00
Reassurance Scan + 4D Scan Pictures

£169.99
Second opinion Reassurance scan


This may be necessary to be sure before taking any important decisions



£125.99
Reassurance scan for Twins


Pregnancy complications are likely to be more common in multiple pregnancy, hence a reassurance scans are called upon more frequently in twins

£169.99
Screening for Caesarean section's scar Dehiscence or scar rupture


This is an ultrasound scan to detect the integrity of caesarean section scar in pregnancy. It gives reassurance to mothers who had caesarean section in their previous pregnancy especially if they are in discomfort or worried about any problems with their previous scar

£125.99
Emergency ultrasounds scan (6-42weeks)
This can be done from as early as 6 weeks and at any time in your pregnancy. It assesses the pregnancy in the face of advert events as if there is vaginal bleeding, abdominal pain or any accidents in the course of the pregnancy. Bleeding. It gives the mother invaluable information about the duration of pregnancy, its viability and growth as the prognosis if possible. It can be performed at any time during the week and during out of ours and during the weekends especially on Sunday.
£169.99
Screening For Pre-Eclampsia
This is a simple ultrasound scan using the Doppler techniques applied to the uterine artery in early pregnancy. It predicts the mother who may later develop pre-ecalmpsia in the current pregnancy. This enables them to be referred to hospital for advice and possible treatment early if required.
£125.99
Miscarriage and pregnancy loss
In the unfortunate event and in the presence of vaginal bleeding the pregnancy loss may be diagnosed following the ultrasound scan examination. This will be explained to the mother and her partner and if she wishes and if agreeable she would be referred to her local hospital if needed.
£99.99
2D Gender scan for singleton pregnancy at 16 weeks

£74.99
2D Gender scan From 20 weeks to 29 weeks
£99.99
2D Gender scan From 29 week to 42 weeks
£125.99
2D Placenta Praevia (Low Lying Placenta)
£125.99
4D Gender scan for singleton pregnancy after 20 weeks only
£150.99
2D Gender scan for twins

£159.99
2D Gender Scan & DVD at 16 Weeks

£94.99
Cervical length scan
£139.99
Early pregnancy scan
Up to 7 weeks of pregnancy
This will include Abdominal and Trans-vaginal ultrasound as well as a medical report and a referral letter to hospital if required.
£139.99
Early pregnancy scan
8 weeks and up to 11 weeks
This will include Abdominal and Trans-vaginal ultrasound as well as a medical report and a referral letter to hospital if required.
£125.99
Repeat Early pregnancy scan
£89.99
Unknown dates
Dating Scan for unknown dates
£139.99
Mini Gender Scan Package
Preview scan
This includes 2 black and white photos You may purchase a DVD or Brayford Heart teddie bear if you want.
Your Gender scan appointment at the Brayford Studio will not be rushed. You will have another free, and at no extra cost, scan appointment at the Brayford Studio if the gender cannot be found out after several attempts in your first appointment. At the Brayford Studio we do offer;
1- A more detailed gender scan if required 2- A 4d scan service. The 4d scan also includes sexing of your baby Please see the more detailed gender scan packages as well as the 4d scan packages for this option at different pages of websites as well a very earlier gender scan.
£45.99
Mini Gender Scan Package
Preview scan TWINS
This includes 2 black and white photos You may purchase a DVD or Brayford Heart teddie bear if you want.
Your Gender scan appointment at the Brayford Studio will not be rushed. You will have another free, and at no extra cost, scan appointment at the Brayford Studio if the gender cannot be found out after several attempts in your first appointment. At the Brayford Studio we do offer;
1- A more detailed gender scan if required 2- A 4d scan service. The 4d scan also includes sexing of your baby Please see the more detailed gender scan packages as well as the 4d scan packages for this option at different pages of websites as well a very earlier gender scan.
£75.99
Mini Early Pregnancy scan Package
Preview scan

This is only an abdominal ultrasound scan and performed from 6 weeks onwards but an even earlier scan is possible if you contact us about it. This early scan will:
1- Determines fetal viability and provides reassurance. 2- Identifies Multiple pregnancy. 3- Provides the age of pregnancy if unsure of dates.
£89.99
Mini Early Pregnancy scan Package
Emergency scan

This scan is for ladies who experience spotting, cramps or those who have lost their pregnancy symptoms. It is not suitable for any one experiencing heavy bleeding or significant pain. For a more detailed or an internal scan please see our relevant pages of different early pregnancy scan on our websites.
£99.99
Early NIPT or Harmony Blood Test Package
Harmony Prenatal Screening (NIPT) and Scan
From 10 weeks from your LMP The scan is to determine that the pregnancy is viable and the gestation is 10weeks or over. A blood sample will be collected for screening. There is an extra £25.00 for the blood collection samples. This screening is not offered on the NHS.
£399.99
Early NIPT or Harmony Blood Test Package
Harmony prenatal blood test only

This is performed from 10 weeks onwards There is an extra £25.00 for the blood collection samples This may be suitable for women who have had a scan and are sure of the viability and normality of their foetus and would like Harmony prenatal screening test only. For more Detailed and for different NIPT Tests Products, please see the relevant pages on our website.
£375.99
Mini wellbeing Pregnancy Package
Wellbeing package

This package includes: 1- Abdominal Ultrasound Scan at 6-8 weeks 2- A further ultrasound Scan at 10- 12 weeks as well as the Harmony or any other NIPT Prenatal screening blood test 3- There is Extra £25.00 for the blood collection samples 4- 2 black and white photos.
£439.99
4D Scan preview
Mini 4D Scan Package

This 4 D scan package offering you a chance to see your baby in the 4d scan. You can find out the gender of your baby or confirm it if this is already known. You will have chance to check position of your baby and get a report of it. There is a one black and white photo as well as one coloured print are given free of charge with this package. You may add to this if you so wish any of the following as an extra cost 1- Further pictures of your choice 2- DVD 3- Brayford Studio Heart Bear 4- CD of all your scan pictures 5- Keyrings 6- wellbeing of the baby at a 25% Discount
£99.99
4D Scan preview
Combined 4D Scan Package

The above Mini 4D scan package may be used twice at two different stages of your pregnancy so you will have a reassurance and an update of how your pregnancy is progressing especially in the latter part of your pregnancy. You may choose the timing and when you would like to have each scan in relation to your pregnancy.
£159.99
Find out more about the following scans: